Science Technology Engineering Mathematics Career Academic Pathways (STEM CAP)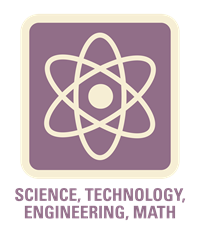 Welcome to the STEM CAP webpage. Career and Academic Pathways (CAPs) are groups of similar programs designed to help you select a program of study (i.e., a major) and speed your progress towards completion. Within each CAP, you can explore a set of program maps that show a semester by semester path from program entry to completion.
Learn about your CAP (STEM)
Are you a person who is interested in coding, problem solving, understanding patterns in nature, or designing, analyzing, building and testing machines, systems, structures and materials?
The Science, Technology, Engineering, and Math Pathway (CAP) includes majors in:
Anthropology
Biology
Chemistry
Computer Science
Earth Science
Engineering
General Studies
Geography
Geology
Kinesiology
Mathematics
Physics
Registered Nurse
Respiratory Therapy
Learn about Major within your CAP (STEM)
LAVC offers many majors under Science, Technology, Engineering, and Math that may lead to a certificate of achievement, Associate's Degree, and/or transfer to a 4-year university. Learn more by exploring the programmer mapper and major sheets.
---
Program Mapper
Are you a creative person who is interested in studying people, expressing yourself, and communicating effectively? Click through to explore the Career and Academic Pathway (CAP) for Science, Technology, Engineering, and Math.
---
Major Sheets
Confirm you CAP (STEM)
Your choice of CAP is an important part of your educational and career decision making. Below are several assessments/resources you can use to confirm your choice of CAP.
ElimiPathway Worksheet
Not sure which Career Academic Pathways (CAP) is the right fit for you? Complete this worksheet will help you eliminate the CAPS you are not in interested in.
ElimiMajor Worksheet
Choosing a major is hard, but you may already know what you do not like. Complete this worksheet to help you elminate the majors you are not interested in.
VitaNavis
Take the SuperStrong assessment to learn more about your interests and how it relates to CAPS and majors at LAVC.
Career Coach Assessment
Take the Early Career Assessment that is part of CCC Apply if you have not completed it already.
What Can I Do With This Major?
Learn about the careers you can pursue with different majors.
Career Exploration (STEM)
Self-exploration is the first step in career decision-making. Below are some assessments/resources to help you explore options that may be a good fit for you.
Eureka (ID Code is PG2WIRG)
Create your own account and take multiple assessments that will help you explore your interest, skills, abilities, and values and how it relates to the world of work.The LAVC Site ID Code is PG2WIRG.
VitaNavis
Take the SuperStrong assessment to learn about your interests and how it relates to majors at LAVC!
16 Personalities
Learn about who you are and why you do the things you do.
Truity
Take online assessments to learn about your personality type
Roadtrip Nation (Site ID is LAVC19)
Learn more about career pathways and occupations by watching career informational interviews of successful professionals.
Check out the LAVC Virtual Career Center for more resources!
Transfer Exploration (STEM)
Assist.org
Learn more about what classes to take at LAVC to transfer to the CSU's and UC's.
A Degree with a Guarantee
Learn about Associate Degrees for Transfer (AD-T) and which CSU majors correspond with LAVC AD-Ts.
LAVC Transfer Center
Visit the LAVC Transfer Center website to learn about representative visits, workshops, transfer events, and much more.
UC Transfer Admission Planner
Create a TAP account early to track your progress towards transfer to a UC.
Association of Independent California Colleges and Universities
Learn more about how to transfer to a private university.
Transfer Basics
Learn about transfer basics to the California State University (CSU) and the University of California (UC) systems. Attent a Transfer 101 workshop to identify how your courses meet the requirements to your educational goals.
Calendar of Events (CTC)
Please visit the Career/Transfer Center webpage for an up to date calendar of events.
Milestones to Academic Success (STEM)