Dr. M. Elizabeth Negrete, Dean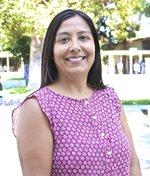 Dr. M. Elizabeth Negrete is a graduate of USC and UCLA. She earned her Bachelor of Science degree at USC in Public Policy and Management and her Masters degree in Public Administration. She earned her doctorate degree at UCLA in Educational Leadership. We will let you discover where her allegiance truly lies!
Dr. Negrete is not only a first generation college student, but a transfer student as well. She has worked at LAVC since 2007. Dr. Negrete can be reached by email at negretme@lavc.edu.