The Smart Money Toolkit is a FREE financial literacy resource available to all LAVC students. Click on the flyer to self-enroll or follow the instructions on the flyer to explore the toolkit.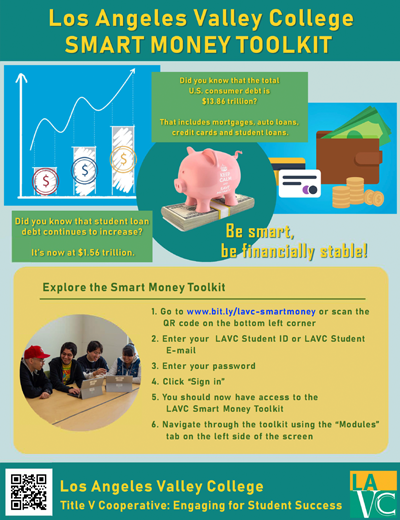 Along with completing your FAFSA, access your LACCD Student Portal to:
Get your personal financial aid information
Upload requested documents
Track and send all documents
Register for classes
Pay student fees online
Apply for scholarships from the LAVC Foundation.
Related Links:
Financial Aid TV (24/7 Fin Aid Information)
2022-23 Helping Handbook not yet available
What is Financial Aid?
Financial aid is meant to supplement your existing income/financial resources and should not be used as your sole means of income to support other non-educational related expenses.
What is the FAFSA?
In order to receive aid, you must complete the Free Application for Federal Student Aid (FAFSA)
Students cannot receive financial aid or fee waivers for audited or community services classes.No exceptions to this policy can be made. You must present photo ID for all services.
Office Hours
In person/On Campus & Remote Services
Mondays to Thursdays: 8:00AM - 7:00PM
Fridays: 8:00AM - 1:00PM
Saturdays to Sundays: Closed