Welcome to the LAVC Student Health Center
Out of abundance of caution due to inclement weather, staff is working remotely today, Monday, August 21st. Via Care is available for Telehealth Services. Call (818) 947-2698 to access services.  Any questions about Student Health Education, find us on Cranium Cafe.
The Los Angeles Valley College Student Health and Wellness Center is operated by Via Care. Currently enrolled students who pay their Semester Health Fee have access to Medical and Behavioral Health Services. Call (818) 947-2918 to schedule an appointment. Make sure to mention your are a Los Angeles Valley College Student.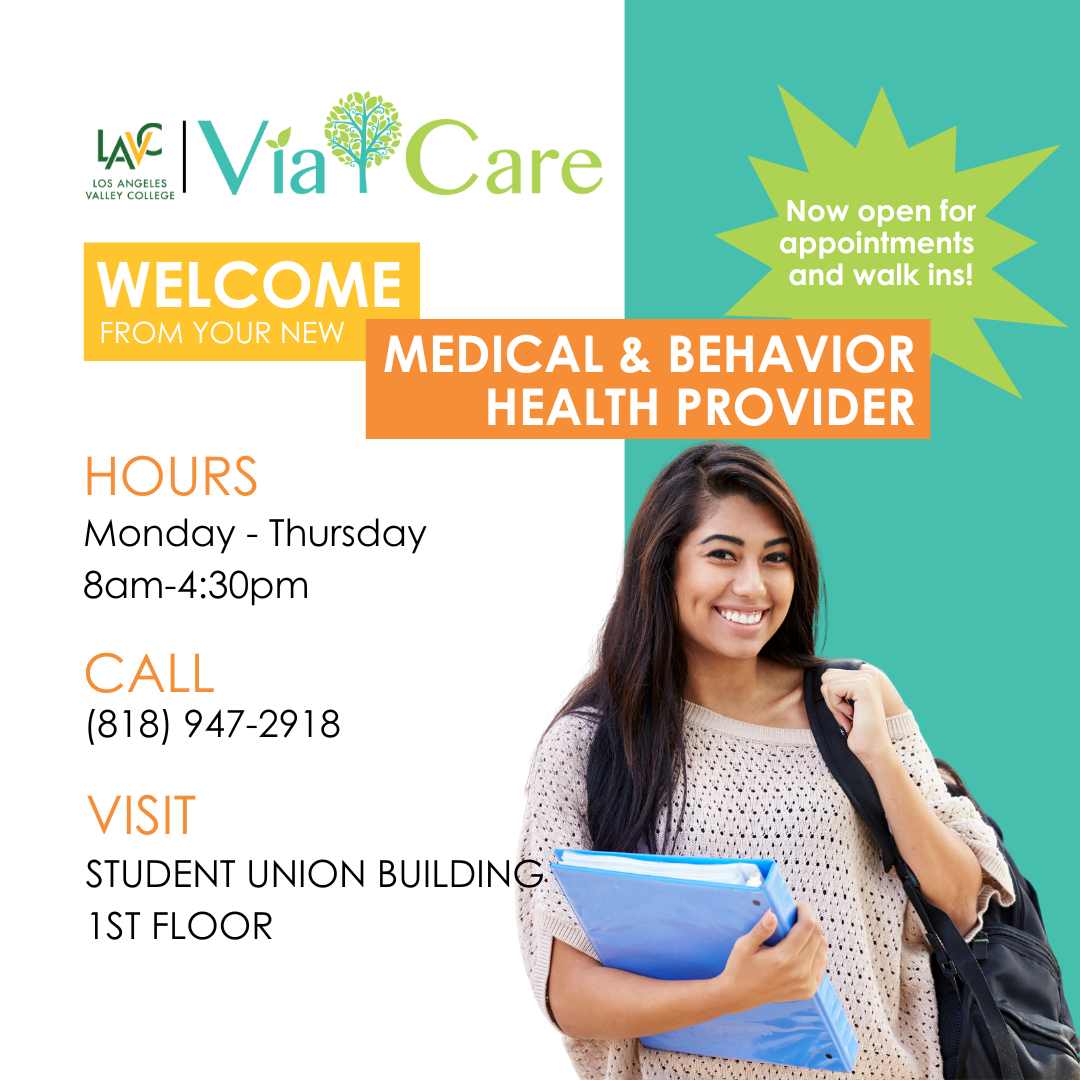 Services Covered by Health Fee
---
General Medicine and Behavioral Health
General Medicine
Services Include:
First aid care

Treatment of minor illnesses

Physical exams

COVID-19 Testing

Behavioral health care

Prescriptions for birth control

Emergency birth control

IUDs & implants

Tampons & pads

Pregnancy tests

Women's health

Referrals for LGBTQ+ services

STI & HIV testing & counseling

PEP & PrEP

Condoms

Substance use disorder services

Flu shots

Vaccinations

Blood pressure screening

Laboratory services

Glucose test
Behavioral Health In-Person or On-Line
LAVC students have access to in-person Mental Health services with Via Care at the Student Health Center or on-line with TimelyCare. 

Experienced Behavioral Therapists and Counselors can assist students in managing concerns about...
Depression
Anxiety
Abuse
Addiction
Family or Relationship Conflicts
To access in-person services contact Via Care at the Student Health Center to schedule an appointment at (818) 947-2918. Make sure to mention you are an LAVC student.
Access to 24/7 virtual Mental Health support from anywhere by using TimelyCare. TimelyCare can be used on a browser  by downloading the TimelyCare app from the App Store or Google Play.
To use TimelyCare log in with your school email address. The one that ends with .edu.
Services Not Covered by the Student Health Fee
All services previously listed are covered by your student health fee. For services not covered by the health fee, Via Care accepts:
• Medi-Cal
• MyHealthLA
• FamilyPact
• Private Insurance
• Sliding Fee Scale
Insurance enrollment assistance is also available by calling (323) 268-9191. Visit Via Care Website for additional information.
Check-in Procedures
Review check-in procedures prior to your visit. The Student Health Center continues to follow the safety guidelines in managing patient access, maintaining personal distances, and mandating wearing masks inside the Student Health Center. We recommend bringing the completed English VC Intake Packet form on your first visit. This is not a requirement, you can request and fill out the form at the center.  
---
Via Care Community Healthcare
Operators of the LAVC Student Health Center. For more information about the company visit Via Care Website.
Related Links
Student Services Division Homepage
Can help prevent suicide. The Lifeline provides 24/7, free and confidential support for people in distress, prevention and crisis resources for you or your loved ones.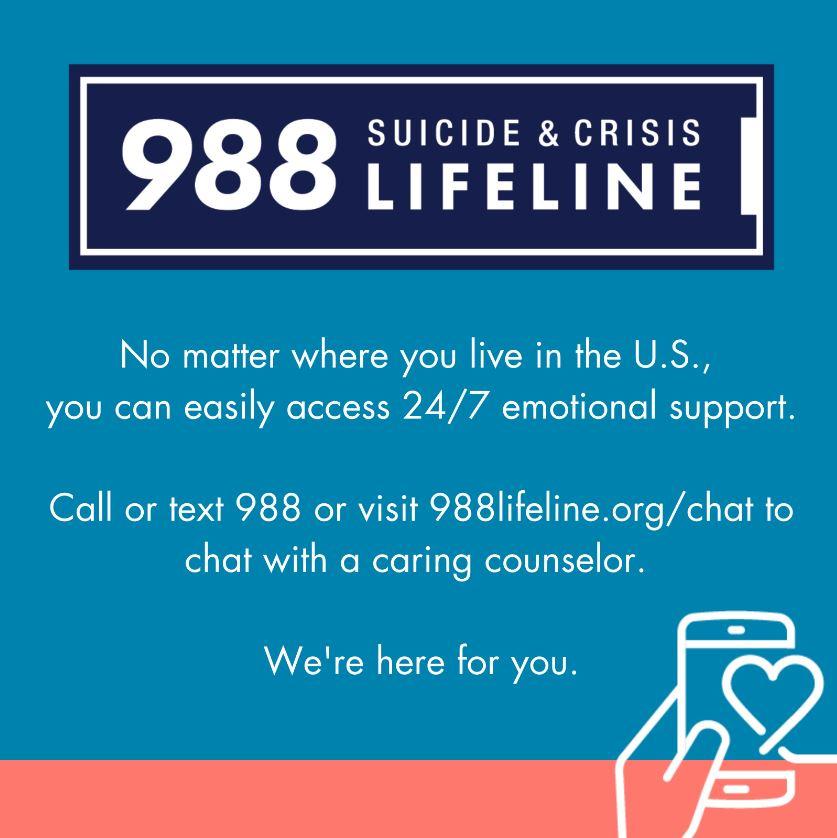 HEALTH CENTER INFORMATION
Office Hours and Location
June 12, 2023 - December 14, 2023
Monday to Thursday: 8:00AM - 4:30PM
Closed Fridays, Weekends, and Holidays
Student Union Bldg. First Floor (Next to Cafeteria)
Contact
Phone: (818) 947-2918
CAMPUS EMERGENCY
Contact Campus Sheriff
Phone: (818) 947-2911