COOPERATIVE EDUCATION IS OPEN FOR IN-PERSON SERVICES.
We are open Monday - Friday from 9:00 a.m. - 5:30 p.m.
Faculty available by appointment only.
---
Welcome to Cooperative Education
Earn Units for Your Work, Internship, or Volunteerism
Earn 1 - 4 elective units transferable to CSU System
Strengthen your employability skills with our two built-in seminars
Tailor your work experience to meet your needs
Volunteer at a nonprofit organization and earn extra credit in a class this semester
LAVC's Online Job Board
Click on the College Central Network link below to get started!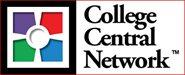 ​​Employers / Job Seekers
Job Opportunity Listing
The College Central Network is the primary job posting service for LAVC and is a FREE service to the local community.
---

Transferable college units for work/intern experience
A structured program to improve and advance at work while building your resume
Career guidance in a realistic setting
Program Available Spring, Summer and Fall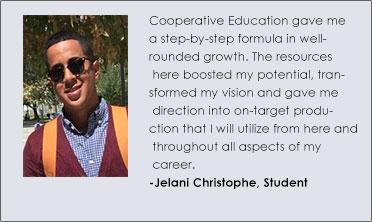 Cooperative Education gave me a step-by-step formula in well- rounded growth. The resources here boosted my potential, transformed my vision and gave me direction into on-target production that I will utilize from here and throughout all aspects of my career.
-Jelani Christophe, Student
---
If it weren't for the Coop Ed Pro-gram at Valley College, I wouldn't have had a successful internship journey that led to a full time job! The seminars held helped both me and other students improve on resumes, interviews, follow-up emails, and more. Everything did with Coop Ed has linked to my success for my career!
-Armine Tadevosyan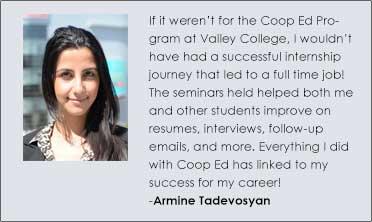 ---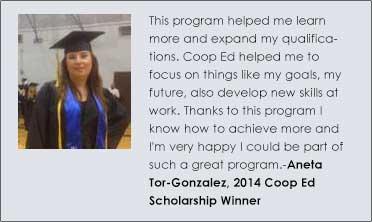 This program helped me learn more and expand my qualifications. Coop Ed helped me to focus on things like my goals, my future, also develop new skills at work. Thanks to this program know how to achieve more and I'm very happy I could be part of such a great program,
-Aneta Tor-Gonzalez, 2014 Coop Ed Scholarship Winner
---
I am truly grateful that I was able to utilize the LAVC Coop Ed program because it brought me closer to my career goals and allowed me to embark on the next steps of my career, Thank you Valley Collegel
-Brandon Rouckus, 2014 Coop Ed Scholarship Winner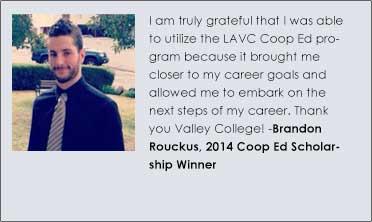 ---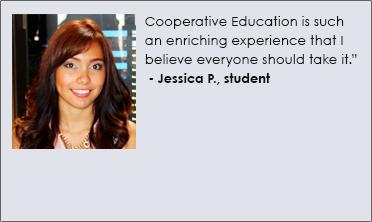 Cooperative Education is such an enriching experience that I believe everyone should take it."
- Jessica P., student
---
If you want to succeed in your education use all the resources that are provided for you. The co-op education program helped me take action towards my goals.
- Santiago Gil, student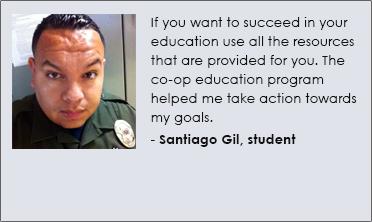 ---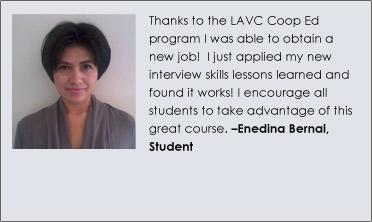 Thanks to the LAVC Coop Ed program I was able to obtain a new job! I just applied my new interview skills lessons learned and found it works! I encourage all students to take advantage of this great course.
- Enedina Bernal, Student
---
Coop Ed changed my life! The program gave me experience need in order to be successful. I highly recommend using this program. I learned so much in three semesters and I know I'll use the information the rest of my life. One of the most useful classes I have ever taken.
- Madeleine Pumilia, Student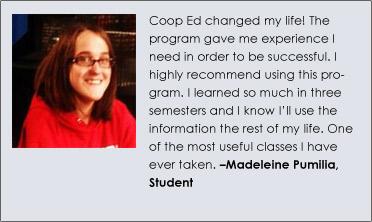 ---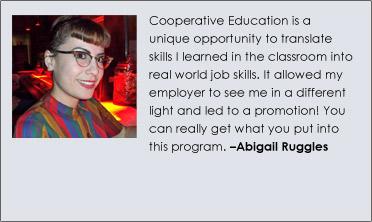 Cooperative Education is a unique opportunity to translate skills I learned in the classroom into real world job skills. It allowed my employer to see me in a different light and led to a promotion! You can really get what you put into this program. -
- Abigail Ruggles
---
LAVC's Coop Ed. is hands down the best program of its kind. The director has a genuine interest in students' improvement and making sure everyone gets the most out of the program. The seminars were fun and informative, and the assignments were short, sweet and proactive. I highly recommend it!
- Jasmine Terzian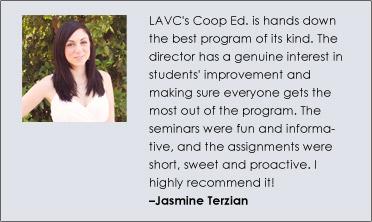 ---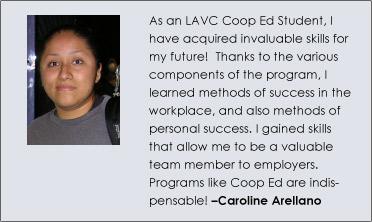 As an LAVC Coop Ed Student, I have acquired invaluable skills for my future! Thanks to the various components of the program, I learned methods of success in the workplace, and also methods of personal success. I gained skills that allow me to be a valuable team member to employers. Programs like Coop Ed are indispensable!
- Caroline Arellano
---
"The LAVC Coop Ed program taught me valuable career search and interviewing skills that nobody had ever told me before. There is no substitute for real world work experience. Now that many people hold degrees, I favor a system of apprenticeship in the marketplace. That is exactly what LAVC Coop Ed helps offer to students."
- Charles L., student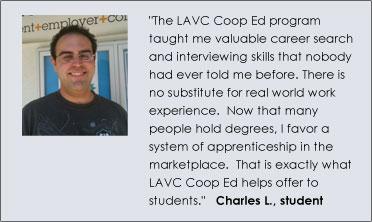 ---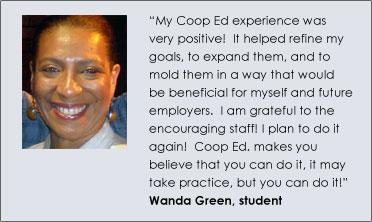 "My Coop Ed experience was very positive! It helped refine my goals, to expand them, and to mold them in a way that would be beneficial for myself and future employers. I am grateful to the encouraging staff! I plan to do it again! Coop Ed. makes you believe that you can do it, it may take practice, but you can do it!"
- Wanda Green, student
Employers establish a cooperative relationship with the college
Cooperative Education students are often more motivated, enthusiastic employees when they see their work is evaluated and translated into college units
Employers benefit when supervisor-employee communications and relationships are improved and clear goals / objectives / timelines are agreed upon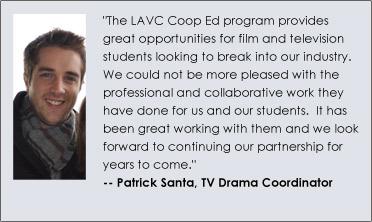 "The LAVC Coop Ed program provides great opportunities for film and television students looking to break into our industry. We could not be more pleased with the professional and collaborative work they have done for us and our students. It has been great working with them and we look forward to continuing our partnership for years to come."
- Patrick Santa, TV Drama Coordinator
---
Coop Ed blends learning with hands-on work experience. This partnership is vital for students to successfully obtain work in their field. Our nonprofit had an eager, smart, and professional LAVC intern positively assisting the low- income/homeless population we serve. LAVC Coop Ed is a great partner!"
- Margarita Zepeda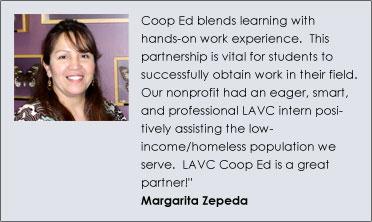 ---
"The LAVC Cooperative Education Program has been a great resource for our radio station's internship program. We have had fantastic students as station interns. The program allows them to blend work and school learning. Many have been successful in landing a job within their chosen field."
- Terri Dourian, Power 106 / Emmis Communications - LA
---
"By having LAVC collaborate with area employers we create a new definition of success for working students."
- Roger W. Sonsini, Jr., Director of Security, Retired Police Officer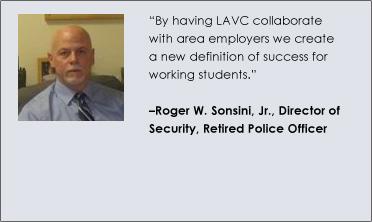 Cooperative Education helps students become more effective and productive workers
The economy benefits from an increased number of skilled workers with real world experience
Increases Faculty awareness of business and industry requirements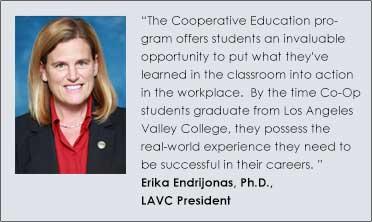 "The Cooperative Education pro-gram offers students an invaluable opportunity to put what they've learned in the classroom into action in the workplace. By the time Co-Op students graduate from Los Angeles Valley College, they possess the real-world experience they need to be successful in their careers."
- Erika Endrijonas, Ph. D., LAVC President
---
"Coop Ed at LAVC provides students with a wonderful opportunity to test careers. These internships provide an in depth learning experience by allowing students to apply coursework it in a work setting. This allows students to get a unique workplace experience while adding valuable items to their resumes."
- Joyce Romero, Counselor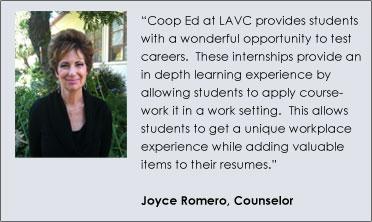 ---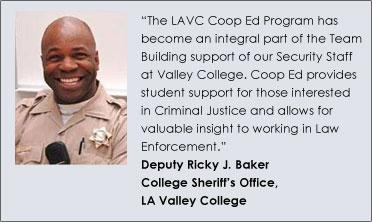 "The LAVC Coop Ed Program has become an integral part of the Team Building support of our Security Staff at Valley College. Coop Ed provides student support for those interested in Criminal Justice and allows for valuable insight to working in Law Enforcement."
Deputy Ricky J. Baker
College Sheriff's Office, LA Valley College
---
"Students at LAVC are privileged to have Cooperative Education Program to learn about social responsibility, of what we should do and not, what we're motivated to do in terms of self-realization or economic necessity and what students consider their dream job. The experience is priceless."
- Ellie Rabani, Director, CalWorks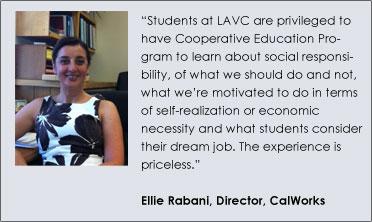 ---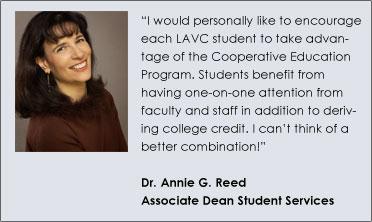 "I would personally like to encourage each LAVC student to take advantage of the Cooperative Education Program. Students benefit from having one-on-one attention from faculty and staff in addition to deriving college credit. I can't think of a better combination!"
- Dr. Annie G. Reed Associate Dean Student Services
---
"The LAVC Foundation and Cooperative Education enjoy a wonderful working partnership connecting businesses in our community with our college and our students. Our partnership helps build a future workforce as well as providing scholarships for students!"
- Raul Castillo, Director of Foundation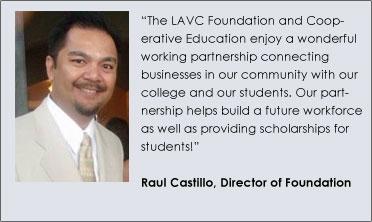 ---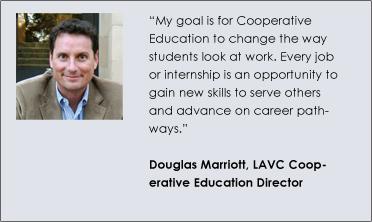 "My goal is for Cooperative Education to change the way students look at work. Every job or internship is an opportunity to gain new skills to serve others and advance on career pathways."
- Douglas Marriott, LAVC Cooperative Education Director
---
"Our goal at LAVC is to give students the opportunity to get high skill/high paying jobs. The Cooperative Education Program is a key step in this direction."
- Laurie Nalepa, Dean Career Technical Education