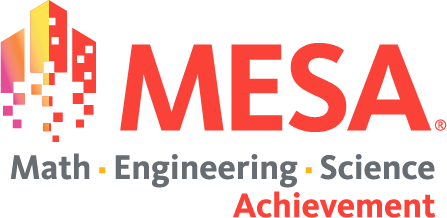 MESA - Mathematics, Engineering, Science Achievement
The Los Angeles Valley College (LAVC) Math, Engineering, Science Achieve (MESA) Program is a program dedicated to creating exceptionally prepared transfer-ready students in calculus-based STEM (science, technology, engineering, and math). The goal is to provide supports to LAVC students who are transferring to a 4-year university as a STEM major. MESA seeks to strengthen students who are first-generation, low-income, and educationally disadvantaged, therefore increasing the number of those historically underrepresented in STEM. 
The MESA Center is now open, and is located in LARC (library) on the second floor, in room 229 (campus map). The entrance is to to the right of the side door elevators from the main entrance of the library. 
The MESA Program is open to the following majors: Biology, Chemistry, Computer Science, Engineering, Geology, Math, Physics, and Pre-Med (Pre-Dentistry, Pre-Medicine, Pre-Pharmacy, Pre-Veterinary).
The supports that we offer include:
Academic excellence workshops
Mentorship
Scholarships & Internships
Tutoring center
STEM organizations (STEM Club & SACNAS)
STEM counseling
University application assistance
Personal development workshops
Network to industry
A place to hang out!  
Once you have completed your application, you will be notified within 2 working days about your application status.
For more information and eligibility, contact Professor Pamela Byrd-Williams at byrdwipb@lavc.edu.