LAVC Fitness Center
---
LAVC Fitness Center, join us for spring 2016
*NOTE: This class begins on Feb 8, 2016 and End on June 6, 2016*
*Student Information:
Feb. 19, 2016, Last day to add classes:
Feb. 21, 2016 (Sunday), Last day to Drop without incurring fees or with refund of enrollment fees / and without receiving a "W" *by Internet only.
May 8, 2016. Last day to Drop class with a "W" *by internet.
Final day of Fitness Center Classes are on Monday June 6th."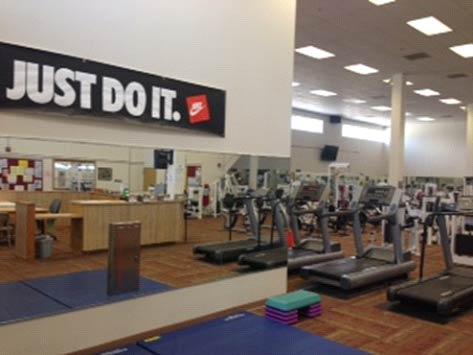 "Come One Come All" (LAVC Fitness Center) "Get Fit today"
Maximize toning--Energize your Body & Mind--Relieve your Stress
--Lose Weight & Feel great--Eat Healthier!
Physical Fitness
Fitness Development Programs
Step to Success in Kinesiology 326-1-2, 350-1-2 Orientation
The proper procedure for participation& in Kinesiology 326-1-2, 350-1-2, AEROBIC SUPER CIRCUIT LABORATORY includes:
Day 1
Complete Physical Activity Readiness Questionnaire (PAR-Q & YOU)
Learn about and record Resting Heart Rate (RHR)
Learn about and record Target Heart Rate (THR)
Recording weight and height
Perform, record, and interpret assessment scores of cardiovascular fitness assessment using the step test and resting pulse rate.
Introduction and Policies of the Fitness Center.
Introduction and demonstration of the Red Aerobic Circuit.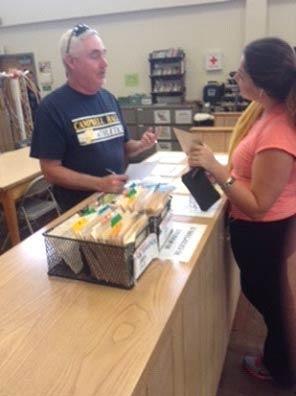 Day 2
Introduction and demonstration of the Blue Aerobic Circuit.
Introduction and demonstration of the Black Section.
Introduction and demonstration of the Treadmill, Elliptical, Seated rower and Exercise on the mat areas.
Completely fill out workout card
Day 3
Identify and list your personal goal
File new workout card Alphabetically
Demonstrate the use of the computer, video check out.
Completed Orientation. *Congratulations!*
Spring 2016 Orientations
*Orientation Begins:
O2/08/2016
DAY SECTIONS:
2116 level 1, 8271 level 2, MW 6:30-7:55am
2117 level 1, 8272 level 2, F 6:30-9:30am
2118 level 1, 8273 level 2, MW 8:00-9:25am
2315 level 1, 8274 level 2, Sat 8:00-11:00am
2121 level 1, 8275 level 2, MW 9:40-11:05am
2316 level 1, 8276 level 2, TTH 9:40-11:05am
2117 level 1, 8277 level 2, F 6:30-9:30am
2317 level 1, 8278 level 2, MW 11:20am-12:45pm
2318 level 1, 8279 level 2, TTH 11:20am-12:45pm
2160 level 1, 8280 level 2, TTH 1:00pm-2:40pm
EVENING SECTIONS:
2907 level 1, 5201 level 2, T 5:00pm-8:00pm
2910 level 1, 5202 level 2, F 4:30pm-7:30pm
2912 level 1, 5203 level 2, W 5:00pm-8:00pm
2963 level 1, 5204 level 2, TH 5:00pm-8:00pm
**Orientation Ends:
02/22/2016
***First day of Full workouts:
02/23/2016
***Last day of workouts:
06/06/201
AEROBIC SUPER CIRCUIT
The Core of Los Angeles Valley College Fitness Center is the Aerobic Super Circuit. The Aerobic Super Circuit training system combines medium intensity, 10-12 repetition circuit weight training with aerobic activity stations. The program has a rich history of success in improving a multitude of fitness components. It is especially designed to be fast, efficient, effective, and fun.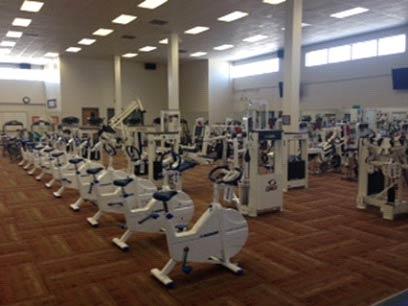 TESTING
The distinguishing characteristics of Los Angeles Valley College Fitness Center are the preand posttesting, and the quality of the Physical Education staff. Each student is tested as they go through the orientation. Then, they are encouraged to test at to end of the semester to see how well they've improved.
CORE PROGRAM
After the ORIENTATIONS are completed students are expected to attend at least 4 times a week for about 1 ½ per visit, (see ENROLLMENT, GRADING and ATTENDANCE ). Current research in physical fitness supports the notion that health related fitness characteristics are improved with at least 30 minute bouts of activity about every other day.
TYPICAL VISIT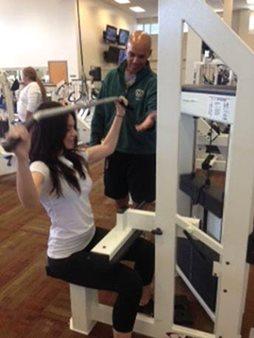 CORE WORKOUT: Recommended in the Fitness Center:
Pre-Workout: Be dressed and ready to work out before logging into the computer.
10 minute Warm-Up activity
20 minute RED OR BLUE AEROBIC SUPER CIRCUIT
20 minute Extra Workout Session.
10-15 minutes of flexibility and cool down activity
Post Workout: Log out.
ENROLLMENT AND EVALUATION PROCEDURES
The Fitness Center at Los Angeles Valley College is available to everyone: Students, Faculty, Staff, and the entire community. For enrollment purposes, Students and the community must be registered in the class to participate. Faculty and Staff may sign up with Mr. Jones to participate in the district Wellness club Program..
Evaluation Procedures: To receive a letter grade or credit each student in KIN 326-1 is required to complete the following four areas:
1. Final Workout Hours Recorded on Computer.
2. Complete & record Final Redand Blue Circuits
3. Final Exam is a take home final, there is NO Make Ups.
The final will be available
4. Post: Step Test, Sit and Reach Test,
Sit Up Test and Push Up Test, scores recorded, and return to instructor.
34 hours = 150pts
>34 circuits = 150pts
Pass >70% of test = 100 points
100 points
30-33hours= 116pts
30-33circuits= 130pts
Pass 60% of test = 75 points
24-29hours= 99pts
24-29circuit= 100pts
Pass 50% of test = 50 points
23 hours = 82pts
16-23circuits= 40pts
Pass 40% of test = 25 points
23 hours = 65pts
< -15 circuits= 5pts
Pass <30% of test = 15 points
Objective is to add up your scores above then find your grade below.
Final Total Points for Fitness Center Grades
A = 450 points - 500 points
B = 400 points - 449 points
C = 300 points - 399 points
D= 250 points - 299 points
F = < 249 points
First Day of workouts in Fitness Center Classes:
Morning Classes: Tuesday, February 23rd at 9:40am to 12:45pm
Evening Classes: Tuesday, February 23th at 5:00pm to 8:00pm
Office Hours
Spring 2016
Feb 8 - June 6, 2016
Mondays
Morning: 6:30AM - 12:45PM
Evening: Closed
Tuesday
Morning: 9:40AM - 12:45PM
Evening: 5PM – 8PM
Wednesday
Morning: 6:30AM - 12:45PM
Evening: 5PM – 8PM
Thursday
Morning: 9:40AM - 12:45PM
Evening: 5PM – 8PM
Friday
Morning: 6:30AM - 9:30AM
Evening: 4:30PM – 7:30PM
Saturday
Morning: 8:00AM - 11:00AM
**Holidays
President's Day
Feb. 12-15, 2016
Cesar Chavez Day
Mar. 31, 2016
Spring Break
Apr.1-8, 2016
Memorial Day
May 30, 2016