Welcome to Fire Technology
Welcome to the Los Angeles Valley College Program in Fire Technology. A career in the Fire Service is both challenging and rewarding. Fire Suppression is only one of a wide variety of duties performed by the firefighters. In fact, approximately 85% of all fire departments responses are to emergency medical calls. Other typical assignments may include Fire Prevention education, commercial and residential fire inspections, community outreach and service, post-fire salvage and cleanup and equipment maintenance.
Fire service agencies in the near future will be requiring their recruits to have a college education.
Though a Firefighter 1 Certificate and EMT Certificate meet minimum qualifications to apply for employment with most agencies, it is the people with college degrees who are getting the entry level positions. Higher education is essential for chief officers who must deal with budgets, personnel, liability and other complex issues.
Men and women qualified for employment in the fire service profession possess:
The ability to carry a great deal of responsibility and handle difficult emergency situations.
The ability to communicate effectively with persons of various cultural, economic and
ethnic backgrounds.
The desire and ability to adapt to technological and sociological changes.
The mental capacity to learn a wide variety of subjects quickly and correctly.
The emotional maturity to remain calm and objective and provide leadership in
emotionally charged situations.
The physical and mental endurance to perform exacting duties.
The Fire Technology program prepares students to meet the high standards required to pursue a career in the fire service as a firefighter or a member of related fire protection services. Through the expertise of our faculty and exposure to professional fire service personnel, students may expect to be trained in the most current theories and techniques of fire technology, fire fighting skills and emergency medical training.
Our EMT course, Fire Tech 96 (EMT) covers the didactic education, clinical experience in an ambulance, (two 10-hour observational ride-a-longs with a minimum of ten patient contacts) and skill development of pre-hospital concepts, theories and practices required of the Emergency Medical Technician.
Students will be able to successfully demonstrate the EMT skill set at an acceptable level as required by national, state and local regulations.
The prerequisite for this course is as follows: Students are to present their current CPR card to the instructor on the first day of class, either a "BLS for the Healthcare Provider" card from the American Heart Association or "CPR for the Professional Rescuer" card from the American Red Cross. NO OTHER CARDS ARE ACCEPTABLE. Students must be at least 18 years of age at the beginning of class and have no felony convictions.
For more information about this program, please enjoy our website, or contact us.
Sincerely,
Jennifer Read
Chair of the Emergency Services Department
Phone: (818) 947-2786
Email: readjl@lavc.edu
Kenny Kasparian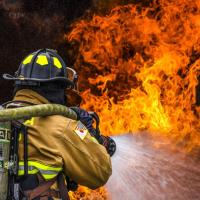 Kenny Kasparian
Los Angeles Valley
Getting the Fire Technology Skills Certificate at Los Angeles Valley College has helped me to get one step closer to my career choice.
Yeny Gomez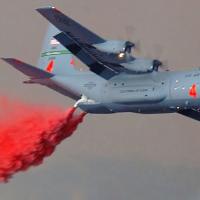 Yeny Gomez
Los Angeles Valley
Los Angeles Valley College has helped me attain an AA degree and transfer to Cal State Los Angeles, due to programs such as TRIO, and the tutoring centers. Valley has helped me greatly with my academics, and from this support and my own drive to succeed, I am about to reach my goals.
Victorina Kuenz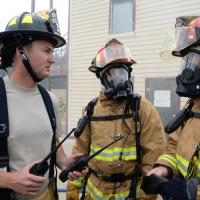 Victorina Kuenz
Los Angeles Valley
There are so many things that I enjoy about Los Angeles Valley College. The campus is so beautiful and wide open, without being so large that one could get lost. The outside campus creates a peaceful place to study and relax before an exam. The professors bring a welcoming presence to each class, making it easy to ask questions, and answering those questions. I am so thankful to have the opportunity to attend Los Angeles Valley College.