Welcome to Child Development
Welcome to the Los Angeles Valley College Child Development Department. Our goal is to prepare you with the practical experience necessary to become an expert member of the early childhood workforce.
At the Los Angeles Valley College Child Development Department, we feel that early childhood shapes our future society. Therefore, through emphasizing theory and best practices, you will be provided with an in-depth understanding of the whole child in relation to physical, cognitive, social, and emotional development. We will also focus on science, technology, English, art, and math (STEAM) education, understanding that such study greatly increases student success.
We offer an AA degree and seven different certificates, which allow you a broad spectrum of opportunities. You may wish to teach, become a program director, or become a childcare owner. The possibilities are endless.
If you choose to move beyond an AA Degree, our program prepares you to transfer to a four-year university and receive a bachelor's degree, master's degree or PhD in this or a related field. Not only are child development related careers rewarding on a personal level, but they can be financially rewarding, as well.
We have placed many students into excellent work sites. If you are considering a career teaching transitional kindergarten, we are pleased to inform you that Los Angeles County Childcare is offering stipends to transitional kindergarten teachers. If you are considering a career teaching elementary school, we are happy to announce that Los Angeles Unified School District is always looking for new teachers.
For more information about our department and programs, please enjoy our website, or contact us.
Sincerely,
Veronica Getskow
Child Development Department Chair
Child Development Family Complex (CDFC) Room 170
(818) 947-8094
getskov@lavc.edu
Tracy Marroquin, Child Development Student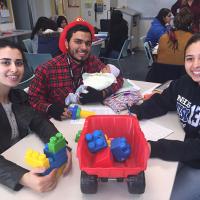 "I took one child development class (at Valley College) and fell in love. Each instructor takes their time to express their education and knowledge with each student. The building is so progressive, with a child center and classrooms filled with color and enthusiasm. I am thankful to be a part of Valley College's Child Development program.
--Los Angeles Valley College
Our Associate and Certificate programs are as follows:
---
Degrees
Associate of Science in Early Childhood Education
Associate of Arts degree in Child Development
Associate of Arts degree in Child Development: Early Childhood Education
Associate of Arts degree in Child Development: Special Education
Certificates:
Certificate of Achievement In Child Development: Associate Teacher, Preschool (A)
Certificate of Achievement In Child Development: Director, Preschool (B)
Certificate of Achievement in Child Development: School Age Programs Teacher, Day Care (C)
Certificate of Achievement in Child Development: Infant/Toddler Care Teacher (D)
Certificate of Achievement In Child Development: Teacher
Skills Certificate in Child Development: Associate Teacher, Preschool, Literacy Emphasis (E)
Skills Certificate in Child Development: Associate Teacher, Preschool, Special Education Emphasis (F)
Angineh Nazarian, Child Development Student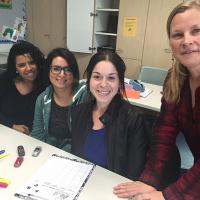 "I absolutely love this department. I have never felt so comfortable sharing my personal experiences with my classmates and my amazing professor, Tracy Baca… It was only when I started taking child development classes in this department that I realized how much love and respect I have for teachers and teaching..."
--Los Angeles Valley College
Steph Reynaud, Child Development Student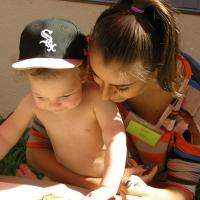 "I am taking Child Development at Valley College in order to become a teacher. As an older student – I am a fifty-year-old mother with a career change – I truly think that this class is amazing… My learning experience has been really enhanced by these modern classrooms and a very professional teacher with years of experience."
--Los Angeles Valley College
Events
There are currently no events