Message from the President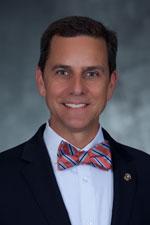 Dr. Barry Gribbons President
Welcome to the Los Angeles Valley College "ReVitalizing Valley" web site. Valley College has been part of this community since 1949 and thanks to your support, the revitalization of our campus is more than 75% complete.
Throughout our building program the college has been working with our College Citizens' Building Oversight Committee (CBOC), which is comprised of local homeowners, business and community leaders, students, and senior citizens. Regular meetings are conducted to keep the CBOC up-to-date on the many improvements taking place at Valley. Information posted on this website is also provided to the CBOC.
If you have driven past the college recently you have undoubtedly noticed some of the changes we have made over the past few years. Since 2006, we have revitalized our campus facilities with the following completed projects:
A LEED-certified Maintenance & Operations Building / Sheriff's Station (the first in the Los Angeles Community College District);
A LEED-certified state-of-the-art Allied Health & Sciences Center
An Aquatics Center with an Olympic-sized pool;
An Adaptive Physical Education Center with specialized exercise equipment for individuals with disabilities;
Modernization of all classroom buildings not slated for replacement;
A new Child Development and Family Complex that includes the Child Development Center, Child Development Department and the Family Resource Center;
A Student Services Complex that bring together admissions, financial aid, counseling, and other services for students;
A Library and Academic Resources Center that consolidates library resources, a open computer lab and academic tutoring in one building;
Parking Lot A redesign (corner of Fulton and Burbank) and Welcome Path into the college from the Orange Line
Parking lot at the corner of Oxnard and Ethel covered with Photo-Voltaic canopies that generate electricity and reduce the college utility bill
A new Parking Structure on Ethel Avenue
A Student Union (Monarch Center), which houses the bookstore, cafeteria, student health center, business office and student government offices
Improvements to our athletics facilities, including a new Monarch Athletic Center and new baseball, softball and practice fields
An Administration and Career Advancement building (Community Workforce Development / Administration building)
Many more of our Facilities Master Plan projects will be completed over the next three years. They include the following:
The Valley Academic and Cultural Center (a media arts and performing arts facility) is scheduled to be open in 2023
Academic Complex 1
Academic Building 2
ADA improvements to existing buildings
Central Plant upgrade
Grounds, walkways, and signage improvements
Throughout this decade of construction we have continued to focus on the learning needs of our students.
Valley College would like to thank the voters for supporting Measures A, AA, J and CC. Your support has allowed us to make major improvements to our college. By upgrading our facilities, our students receive their education in settings that match today's industry standards. Our updated Educational and Facilities Master Plans, which will help drive the college's vision for the future, are posted on our college website if you would like to read the whole story.
Thank you again for your continued support of Valley College.
Sincerely,
Dr. Barry Gribbons
President
Los Angeles Valley College