Construction News Briefs
---
LA Valley College Opens the new Administration & Career Advancement Building
January 2017 - Los Angeles Valley College and the Los Angeles Community College District opened the brand new two-level, 41,000-square-foot Administration & Career Advancement building.
Formerly known as the Community Workforce Development Center or the Valley Glen Gateway project, the building serves as a new gateway for the community to Valley College, and replaces the old Administration Building near the college's main entrance.
It houses several of the college's administrative offices, college services, as well as classrooms and meeting spaces. The building is home to the LAVC President's Office, the Academic Affairs Office, the Administrative Services Office, LAVC Foundation, Institutional Effectiveness Office, Public Relations Office, Personnel Office, Payroll Office, Budget Office, Contracts/Purchasing (Procurement Office), Master Calendar Office, Reprographic Services, Mailroom, Campus Operator, Workforce Training (Job Training Office and Cooperative Education), the Academic Senate Office, CalWORKs, and Continuing Education/Non-Credit.
New Modular Buildings
Modular buildings are housing Financial Aid operations and the Computer Science facility until new quarters are completed in the next few years.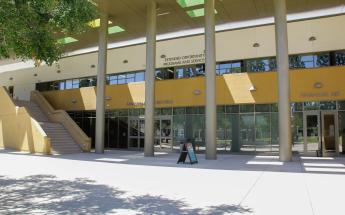 LAVC's newest restroom facility for faculty, staff and students was completed for Fall 2002.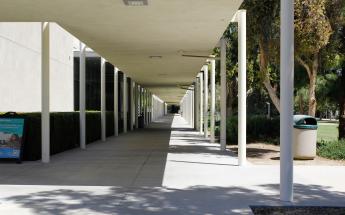 The Financial Aid trailer, located behind Campus Center, is 60 feet by 72 feet and was operational in time for Winter Session 2003.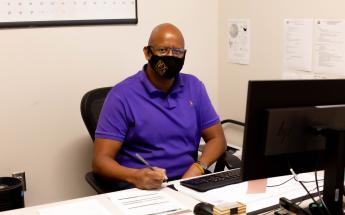 Computer Science, also located behind Campus Center, was up and running by the 2003 Winter Session. The modular building is 60-feet square.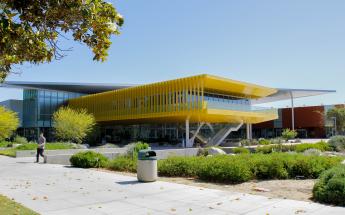 Financial Aid staff assist students inside the Financial Aid trailer.
Environmental Impact Report
The Environmental Impact Report (EIR) for Valley College's Facilities Master Plan has been certified by the LACCD Board of Trustees. This was the final step required by the California Environmental Quality Act (CEQA) of 1970, which regulates the effects of projects undertaken by public agencies. Certification allows LAVC to officially begin implementing the Master Plan, a blueprint for revitalizing the campus with state-of-the-art facilities to meet the needs of the college's projected enrollment growth.
The EIR covered traffic, parking, construction noise, air and water quality, historical resources, geology and seismicity, hazardous materials, population and housing, public services, transportation, public utilities, building height, and landscaping. The latter included the decision to build the Library and Academic Resource Center on the site of the current Cafeteria rather than in the quad area.