About Us
---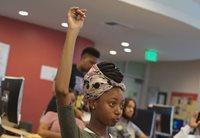 The Los Angeles Valley College (LAVC) Umoja Black Scholars Program is a mentorship-based learning community created to foster greater culturally relevant engagement, sense of belonging, and academic success for LAVC students of color. Given this, our primary focus is to support African American students in defining their future, motivating them on their path, cultivating their passion, and holding them accountable to their dreams.
While this program is strategically engineered to increase the retention and matriculation of African American students at LAVC, Umoja Black Scholars and the Black Scholar Network are inclusive to any students interested in cross-cultural engagement centered on the Black experience and perspectives of students navigating America and LAVC.
---
Mission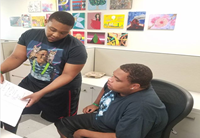 The mission of Umoja Black Scholars is to create a holistic and responsive Afrocentric environement that promotes the successful course completion, semester-semester persistence, certificate and degree attainment, and/or tranfer to a four-year university for African American students at Los Angeles Valley College.
The goals leading our programmatic focus include:
Cultural and Community Awareness
Leadership
Professional Development
Social and Cross-Cultural Enrichment
Retention

---

Vision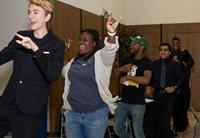 The primary objectives guiding the vision of Umoja Black Scholars include:
Cultivate Safe Spaces for African American Students at LAVC
Empower Student Development and Community Engagement
Promote Critical Student Awareness and Advocacy
Engage and Develop Community of Black Students, Faculty, and Staff
Increase, Matriculation, Persistence, and Retention for Black Scholars at LAVC
Office Hours and Location
Campus Center 102 - Mosaic Village: Umoja Black Scholars
Mondays to Thursdays: 9AM - 5PM
Fridays: 9AM - 1PM
Saturdays to Sundays: Closed