Student Email, OneDrive & SIS Portal Access
---
Office 365 Student Email & OneD

As a Los Angeles Valley College student, you automatically get an LACCD student email and access to Office 365 OneDrive.
This district-wide email system has been integrated into the Student Portal, so you can access it along with all LACCD student systems using a single sign-on. Get tips for how to use the LACCD Student Portal.
The LACCD student email system includes:
50GB of email message space.
1 TB of file storage capacity to store your homework, documents, videos, and other digital files.
Use Microsoft Office Web Apps (Word, PowerPoint, Excel, and OneNote) on the internet at home, school, or anywhere with internet connection.
Upload videos, pictures, and documents and share with your classmates.
Create calendar events to keep track of your assignments.
Photo Sharing
The same student.laccd.edu email account that you use at all of the nine District Colleges.
ATTENTION STUDENTS:
---
REMEMBER TO CHECK YOUR LACCD EMAIL AT LEAST TWICE A WEEK!
All communication from the college including information about financial aid, emergency situations, messages from faculty about your classes, counseling, etc. is delivered to your LACCD email address.
Want to forward your personal email address (Gmail, yahoo, etc.), or synchronize it to your smart phone/mobile device? Learn more
How to Access Your Email & OneDrive
To gain access to your student email to OneDrive, you will need to login to the LACCD Student Portal.
Go to the mycollege.laccd.edu Student Portal.
Enter your Student ID in the "Student ID or User ID" and PIN. Your PIN is the month and day of birth in MMDD format. If you forgot your PIN or need to change it, contact the Welcome Center.
After you have successfully signed on, you will have access to your student email and OneDrive.
After you have logged into the LACCD SIS Portal, simply click the Mail tile to access to your Office 365 account.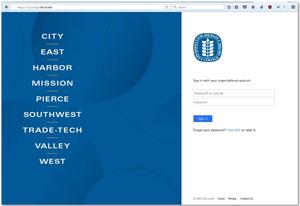 Installing Office 365 on Your Computer
Microsoft Office 365 can be installed on a desktop or laptop computer, or up to 5 devices (PCs, Macs, mobile devices) that you own.
Log on to the LACCD SIS Portal.
On the top of the page, click "Email."
Click the 9-dot menu in the upper left and choose "Office 365."
Click the "Install Office" button and choose "Office 365 apps."
Follow the instructions to complete the installation.
When the installation is completed, open any of the Office applications, such as Word. When asked to accept the license, accept it.
You may be asked to log in to your Office 365 account.
Log in using your district email address and your SIS login password.
Got questions? Learn How to use your Student OneDrive.
How to Update Your Password
As of November 7, 2016, the way you log into your Office 365 email has changed. You will be asked to update your Office 365 email password when you log in for the first time after November 7.
Please watch this video to learn how to update your email password:
Go to the LACCD SIS Portal and enter your Student ID in the "Student ID or User ID" textbox.
You will be asked to update your password the first time your login. Enter your old password and new passwords in their respective textboxes.
New password must contain at least seven alphanumeric characters and contain at least thre of the following:

A number [0-9]
An uppercase letter [A-Z]
An lowercase letter [a-z]
A special character [@, !, $, #, %]

When updating your password, your password CANNOT be:

Part of your name
Your email
Your User ID
Your 3 prior email passwords

Make sure to write down your updated password before proceeding.
After successfully updating your password, you will be redirected to the password registration page.
Having Trouble?
If you're having trouble with resetting your password, here are the common mistakes:
When you are on the "Update Password" page (the second field that is blank), don't enter your PIN number or current email password. Instead, enter your default password in the "Blank" field, for example 88@A0101.
You didn't create a new password according to the following instructions:

Not be part of your name, user id or 3 prior passwords
Contain at least 7 characters and three of the following:

Uppercase letters (A-Z)
Lowercase letters (a-z)
Number (0-9)
Special character (@!$*)

You created a new password but forgot the password because you failed to write it down or memorize it.

Remember to write down your default password and new password on a piece of paper before attempting to change your password online.
Useful Guides for Students: