LACCD Lavender Graduation Celebration at LATTC
Thursday, May 25, 2023
4:00 pm
Graduation
LACCD Lavender Graduation Celebration at LATTC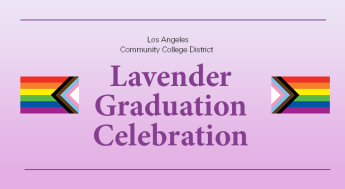 Join the LACCD for its Lavender Graduation Celebration that celebrates our Lesbian, Gay, Bisexual, Transgender, Queer, Intersex, and Asexual (LGBTQIA+) student graduates! Lavender Graduation is an annual ceremony conducted on numerous campuses to honor lesbian, gay, bisexual, transgender, queer and ally students and to acknowledge their achievements and contributions to the colleges.
Date:
Thursday, May 25
4:00 pm
Location:
Los Angeles Trade Technical College (Culinary Arts Event Space)
400 W. Washington Blvd., Los Angeles, CA 90015
For more information, contact Elyse Webb-Wilson at WEBBWIE@EMAIL.LACCD.EDU.
LACCD encourages persons with disabilities to participate in its programs and activities. If you anticipate needing any type of accommodation, or have questions about the physical access provided, please contact Betina Vallin at vallinb@laccd.edu as soon as possible, but no later than seven (7) business days prior to the event.
Los Angeles Trade Technical College - Culinary Arts Event Space
400 West Washington Blvd
Los Angeles, CA 90015
United States