The Journey to be a Tree Campus USA
LAVC's journey to becoming a Tree Campus USA began in June 2010 with the creation of an urban forest master plan for the college. Following the completion of the LAVC Urban Forest Master Plan, the college realized that its unique and diverse urban forest was worthy of national recognition.
In 2011, LAVC (with the help of the college's Sustainability Group and President Sue Carleo) applied to the Arbor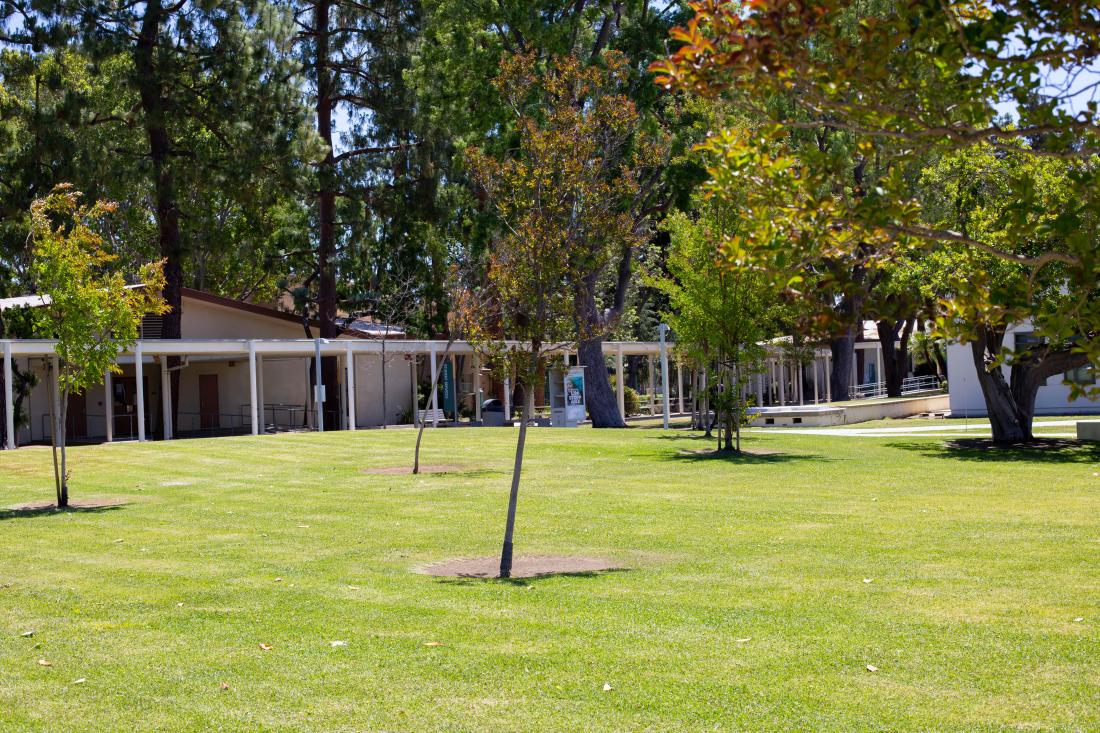 Day Foundation to be a Tree Campus USA®. The Tree Campus USA Program, which is presented by the Arbor Day Foundation in partnership with Toyota Motors North America, Inc, is a national program that honors colleges and universities and their leaders for promoting healthy trees and engaging students and staff in the spirit of conservation. To obtain this distinction, LAVC met the five core standards for sustainable campus forestry required by Tree Campus USA, which includes:
In March 2012, the Arbor Day Foundation announced that it had named Los Angeles Valley College a 2011 Tree Campus USA® in honor of its commitment to effective community forestry management. LAVC was the first community college in California, and first college campus in the city of Los Angeles to be selected for the honor.
In January 2018, Valley College was named a 2017 Tree Campus USA® for the seventh year in a row by the Arbor Day Foundation.
Past Events:
Tree Campus USA® Tree Planting Event - October 15, 2012
On October 15, 2012, the Arbor Day Foundation and Toyota of North America held a tree planting event with college representatives, students, and the community to celebrate LAVC's destinction as a Tree Campus USA® campus. As the first college in Los Angeles to be awarded this distinction (and the only California community college campus), LAVC was given 30 trees to plant on the campus. The event, which included participants of the Advancement of Sustainability in Higher Education (AASHE) Conference in Los Angeles, planted new trees on the east side of the Theater and Music buildings, as well as along the campus border along Burbank Avenue.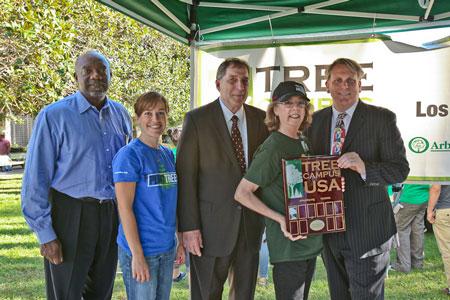 Arbor Day Foundation and Toyota of North America presents a Tree Campus USA plaque to Los Angeles Valley College. Pictured from L to R: Toyota of North America's Jim Colon, Arbor Day Foundation's Mary Sweeney, LACCD Chancellor Daniel J. LaVista, LAVC President Dr. Sue Carleo, and LACCD Board of Trustees Member Scott Svonkin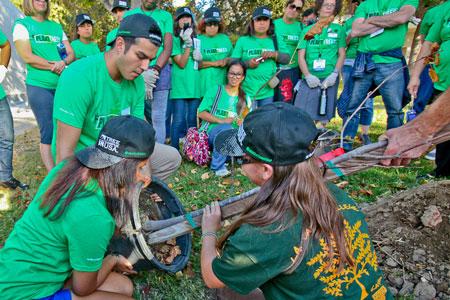 Students, community members, and ASHEE participants volunteer to plant trees near the college's Theater Arts Building.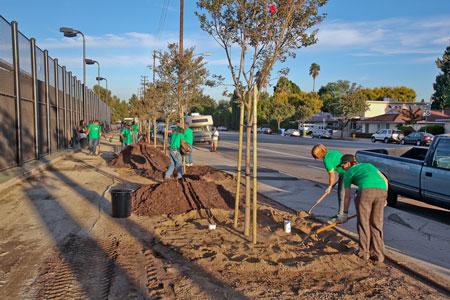 Planting Trees Along Fulton Avenue Volunteers plant trees along the southern end of the college near Burbank Boulevard